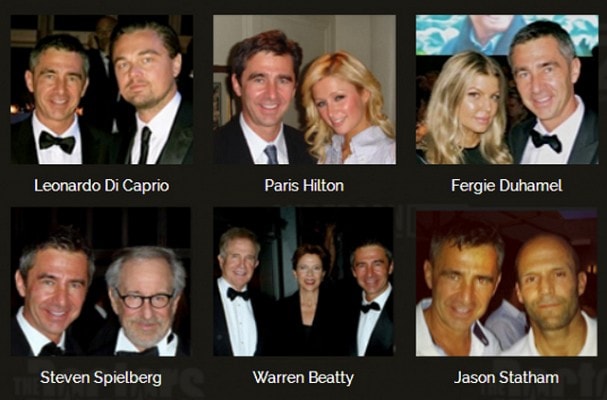 Dr. Alexander Marmureanu is more than a top thoracic and cardiovascular surgeon. He is a charismatic person who enjoys a well-deserved reputation. Dr. Marmureanu is very popular among Hollywood celebrities. Leonardo di Caprio, Bill Gates, Bruce Willis, Jack Nicholson, Steven Spielberg, and Silvester Stallone are just some of the stars who benefited from Mr. Marmureanu's expertise.
This doctor is not only invited to the most renowned medical symposiums worldwide, but also to the most glamorous celebrity parties. No wonder he's often been seen in photos alongside stars like Fergie or Paris Hilton.
Moreover, he's literally where his VIP clients need him most - in the heart of Los Angeles, more precisely, on the famous North Vine Street, in the TAFT building.
Dr. Marmureanu's busy life means long working hours, hundreds of cardiovascular interventions a year, frequent trips, lectures, and daily business dinners. Yet, this well-rounded person still manages to spear some time for his passions such as rallies, tennis, skiing or traveling.
A fascinating man and an experienced practitioner, Dr. Marmureanu has often been interviewed by the national and international press and invited to take part in different TV programs. You can find out more about him on YouTube or check out his different TV appearances listed below.
Take the chance to discover the man and the doctor who made history in Hollywood.
TV Appearances
All About You, KKGM - Cardiothoracic Surgery in Jan 2011
KFWB 980 AM - Cardiothoracic Surgery in Jan 2011
Channel 5 News - Heart Diseases in America on 4thMay 2010
Fox 11 News - Mitral Valve Surgery on 6th Oct 2009
Reality TV Europe - Complications in CT surgery on 3rd Sep 2009
KTLA5 News - Cardiac Surgery / Anesthesia on 28thAug 2009
Reuters Antenna 3 Europe - Thoracic & CV Surgery on 28th Jun 2009
Reuters CNN Europe - Thoracic & CV Surgery on 27thJun 2009
Time Warner TV Cable - Life of a Cardiothoracic Surgeon in May 2007
K-Bev TV, Los Angeles - Decisions in Cardiothoracic Surgery in Dec 2002