Being one of the most successful surgeons in California, Dr. Alexander Marmureanu is always happy to accept new challenges and what better place to do so than the racing track, and in the great company of Patrick Long and the Porsche Motorsports Engineers. In a recent interview, Dr. Marmureanu opens up about some of his passions that have nothing in common with his professional occupation, such as skiing, tennis and last but not least competitive racing, especially rallying.
One of the greatest advantages of having a wide range of interests and hobbies, according to Dr. Marmureanu, is the fact that they refuel his love for medicine.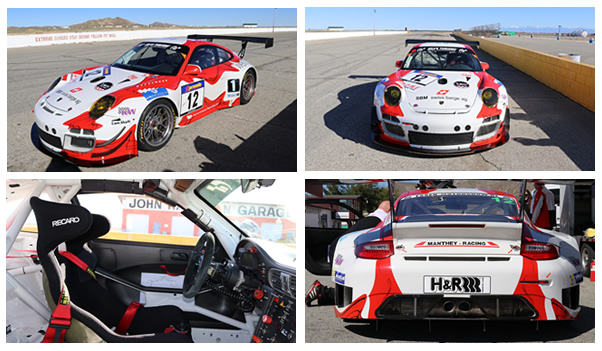 Racecar Driving as a Passion
Despite having an incredibly busy schedule, Dr. Marmureanu does not hesitate to make some time for one of his passions, one that makes him feel alive, restores his energy and fulfills his need for speed. After making sure that his patients have received his attention and all the best services available, the doctor is indulging in one of his favorite activities - racecar driving with one of the best drivers in America, Mr. Patric Long. Today Dr. Marmureanu is test driving his new Porsche 911 GT3 R, the racing version of the cop car, bought from Manthey-Racing and valued at around 400k. He will be driving this stunning vehicle at Willow Springs Racetrack, a historical racetrack built in 1952 and inaugurated in 1953, with the guidance of Porche Motorsports North America's team of specialists.
First Time on the Racetracks
This is the first time on a racetrack, in the United States, for this beautiful race car and here to assist Dr. Marmureanu is one of America's greatest professional racing drivers Patrick Long, who is also a factory driver for Porsche. The first step for Dr. Marmureanu's drive test is getting used to the car and, with the help of Patrick Long and the incredible Porsche Motorsport Team, his learning curve is having a steep start. The second step is, according to Dr. Marmureanu, driving the car until they ran out of gas, which will turn out to the best part of the whole experience allowing him to really feel the car and to get used to its outstanding performances and technical specs such as:
Weight: 2689 pounds (1219 kg);
Body: Aluminum, steel, pure carbon-fiber reinforced plastic and polycarbonate windows;
Engine layout: Water cooled six-cylinder Boxer engine (rear mounted);
Power: 368 kW (500 hp);
Power transmission: Porsche six-speed constant mesh gearbox (sequential);
Brake system: Six-piston aluminum monobloc racing brake caliper at front, Four-piston aluminum monobloc racing brake caliper at rear;
Steering: McPherson strut at front, Multi-link independent rear suspension, adjustable Motorsport dampers, anti-roll bar;
Safety: Welded-in roll cage, fuel safety valve, larger escape hatch;
The Experience of Driving a Porsche 911 GT3 R with Patrick Long
After a great driving session with Patrick Long, Dr. Marmureanu tried to describe for us what he felt when he was driving the Porsche: "I love the new car, a lot of power, a lot of grip, quite a monster." Furthermore, he assures us that, after getting a little bit more practice, he will be race-ready and good to go in April. Another interesting detail about today's experience is that Dr. Marmureanu's best time was 01:27, but considering what a fast learner, he is and how much he loves driving his new car, he will definitely beat his own record soon.

As if Dr. Marmureanu was not convincing enough about what an amazing experience driving a Porsche 911 GT3 R is, Mr. Patrick Long offers us some additional details about today's driving session. Mr. Long and Dr. Marmureanu did some standard racing exercises, such as a lead follow, where one was driving in front of the other and changing positions, in order to find what their strengths and weaknesses are. According to Mr. Long, these exercises demonstrated Dr. Marmureanu's great love for this sport, good physical fitness and his natural ability at controlling such a powerful vehicle. When asked what the most incredible part of today's experience was, Mr. Long did not hesitate to say that it had to be Dr. Marmureanu's passion and the fact that he was enjoying every moment of it.


The Amazing Team from Porsche Motorsport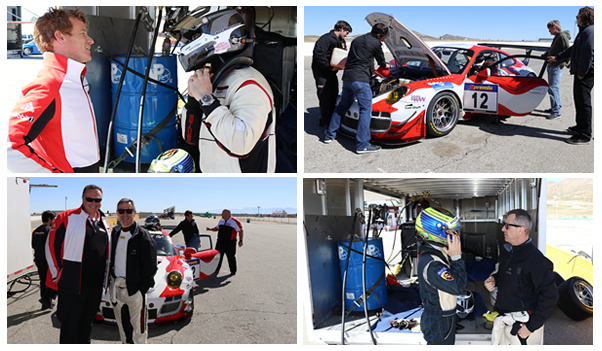 According to Dr. Marmureanu, this experience would not have been possible without the help and support of an entire team of specialists from Porsche Motorsport North America, such as Nick Lester, customer support manager, Andrew Gregory, the electronics and track support specialist and Mike Welch, road race engineer. Another important mention is Mr. Dwain Dement, Vision Motorsport owner, chief driving instructor and competition director for the Porsche Racing Organization (POC), who signed Dr. Marmureanu up with his personal instructor and also helped introduce him to the world of POC. Thanks to them and to an incredibly amazing vehicle like the Porsche 911 GT3 R, Dr. Marmureanu was able to go out and practice on the race tracks of Willow Springs today and have a safe experience and an amazing time.